CREAT won the "Most Growing Listed Company in High-end Manufacturing Industry" award
Date:2022-03-01 Source:
Recently, the selection activity of the "2021 11th Public Company Reputation List" sponsored by the domestic mainstream financial media "Daily Economic News" was successfully held, and the award-winning list has been officially announced.
As a technology-oriented power distribution equipment manufacturing enterprise established in the industry for more than 30 years, Beijing Creative Distribution Automation Co., Ltd. (hereinafter referred to as "Beijing CREAT") won the "Most Growing Listed Company in High-end Manufacturing Industry" award.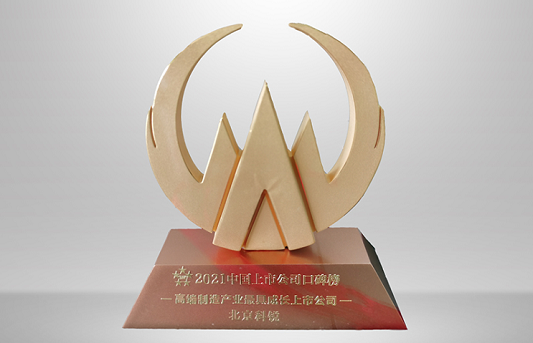 It has been 11 years since the launch of the "Public Company Reputation List" selection activity, which has formed a profound influence in the capital market and is an important reference for various investors to judge the value of the company. The selection went through: public nomination, big data screening, model screening, and institutional + public voting, and 14 lists with professional reputation and market praise were selected.
Founded more than 30 years ago, Beijing CREAT has been committed to the continuous progress of power distribution system technology, advocating technological innovation, and is a typical technology-oriented power distribution equipment manufacturing enterprise. CREAT took the lead in releasing intelligent electricity saving device, fault indicator, box-type substation, outdoor RMU, permanent magnet mechanism vacuum switch, GRC environmental protection box and high overload transformer and other new technologies or products, and the above technologies or products have been widely used. At present, the company's products basically cover the primary and secondary equipment of the power distribution system, and have formed four series of products.
The power transmission, distribution and control equipment manufacturing industry is relatively mature, and the market competition is fierce. In the first year of my country's "14th Five-Year Plan", Beijing CREAT takes effective consolidation of the manufacturing industry and rapid development of the service industry as its development strategy. While steadily cultivating power distribution equipment products, CREAT also makes use of the products and Channels and other resource advantages. Led by the cooperation and sharing with the power grid and local governments, CREAT independent researches and develops the intelligent energy management, service cloud platform and intelligent low-voltage monitoring device, and actively deploys intelligent power property services, intelligent power distribution and general contracting, power sales and distribution Network business. At the same time, CREAT further actively deploys IGBT, optical storage and hydrogen charging technology, and cooperates with leading enterprises in the industry to actively explore the development of new energy business and comprehensive energy service business, and strive to provide industry partners with integrated solution including new energy power generation, energy storage, charging, hydrogen using and comprehensive energy management.