Beijing CREAT won the Beijing New Technology and New Product (Service) Certificate
Date:2022-02-21 Source:
Recently, the Beijing Municipal Commission of Science and Technology, the Beijing Municipal Development and Reform Commission, the Beijing Municipal Bureau of Economy and Information Technology, the Beijing Municipal Commission of Housing and Urban-Rural Development, and the Beijing Municipal Market Supervision and Administration Bureau jointly released the first batch of Beijing Certified New Technology and New Products (Services). Beijing CREAT's pole top switch products won the Beijing New Technology and New Product (Service) Certificate.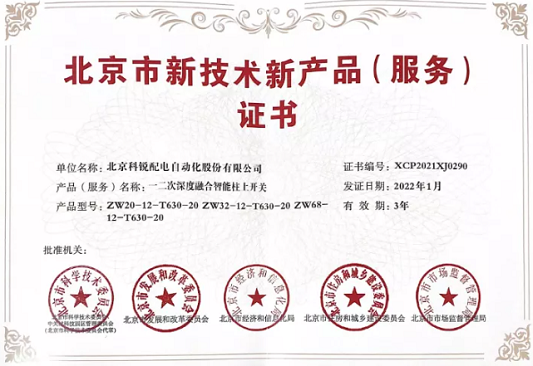 The primary and secondary deep fusion intelligent pole top switch products, independently developed by Beijing CREAT, are
re-designed on the basis of the original pole top switch products' mature design, technology and production experience. The
new design optimizes the types of operating mechanisms, increases the application of digital, all-electronic, pole-
integrated sensors, etc., and solves the problems of large differences in wiring, and incompatibility of primary and
secondary equipment, and realizes the deep integration of primary and secondary equipment.
At present, the product has obtained 2 utility model patents and type tests, and has been widely used and promoted in the
market. It meets the requirements of building a "high-end, sophisticated" economic structure, has advanced technology and
innovation, and has independent intellectual property rights, with potential economic benefits and great market prospects.
Innovation is the core competitiveness of an enterprise. Beijing CREAT will continue to highlight the characteristics of
digital, intelligent and high-precision products, focus on technology and innovation, and strive to build a high-end
equipment manufacturer with core technologies, competitive advantages and R&D capabilities.